About Café Kaila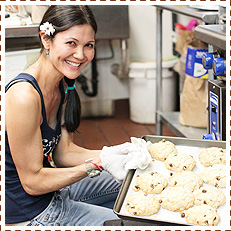 Welcome to Café Kaila!
I would like to share with you some of my favorite things to eat.
This menu was created because I have a passion for cooking and I especially love to eat breakfast. These dishes are a collection of my best recipes that I often make for family and friends.
I am proud of the fact that we serve fresh, wholesome food that is thoughtfully prepared and attractively presented. The secret ingredient in everything is love! I hope you enjoy your meal.
Thank you for visiting! : ) Love, Kaila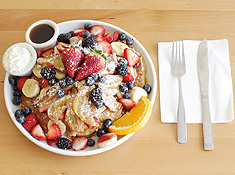 Beginnings
After its nondescript opening in 2007, Café Kaila quickly became one of the most talked about breakfast cafes in the area. Word spread quickly, and within months of opening, there were lines outside the door. Since then, Café Kaila has gone from strength to strength, and in 2012 opened its second store in Tokyo, Japan. We stay true to our original philosophy though, and never forget those who helped us to get where we are now.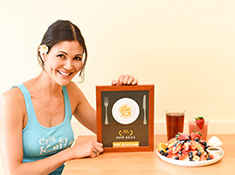 Accolades
In 2011, Café Kaila won the inaugural gold medal in the Best Breakfast category of Honolulu Magazine's Hale 'Aina awards. The awards are the culmination of a ballot among readers of the magazine, who vote for their favorite restaurants in the state of Hawaii. Café Kaila was a finalist in 2012, and won the silver medal in 2013.

From 2014 to 2017, Cafe Kaila won the fourth consecutive gold medal in the Best Breakfast category of Honolulu Magazine's Hale 'Aina awards.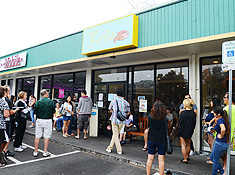 Philosophy
It always has been, and always will be the case that customers come first at Café Kaila. The quality of food (inside, outside, and of course taste), and all-round dining experience are fundamental to everyone at Café Kaila. Even at the busiest times, we do our best to make everyone's experience as pleasant as possible, be they a local or a tourist, waiting to come in or paying the check.
MenuBREAKFAST (served all day)
MenuLUNCH (begins at 11 am)
StoresHonolulu Hawaii

Shop Information
Address
Market City Shopping Center,
2919 Kapiolani Blvd., Honolulu,
Oahu, HI 96826
Access
[Take The Bus from Waikiki area]
Take the No.14 bus from Kapahulu Avenue or Paki Avenue, get off at Kaimuki High School.
Phone
(808) 732-3330
Store
Hours
7AM-6PM on Mon-Fri
7AM-3PM on Sat-Sun
Regular
holidays
No set days off

StoresPhoto Gallery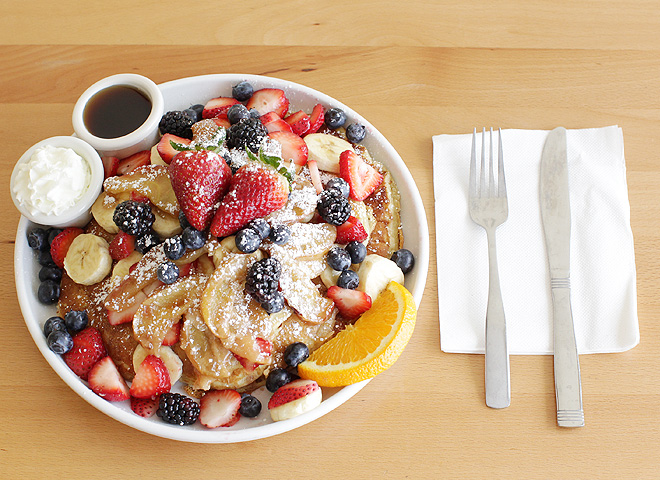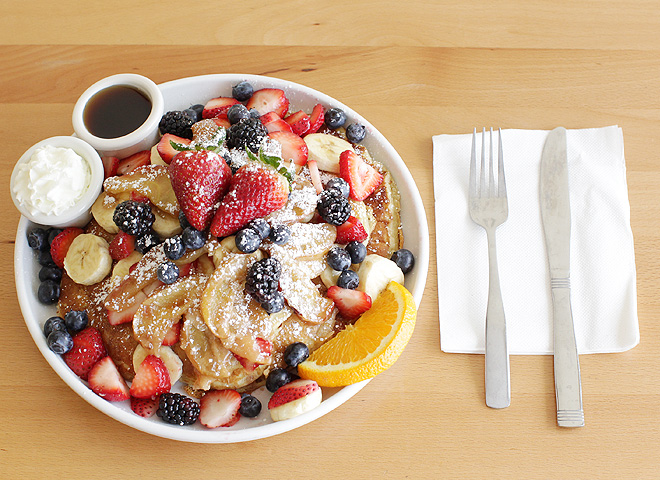 StoresShibuya Japan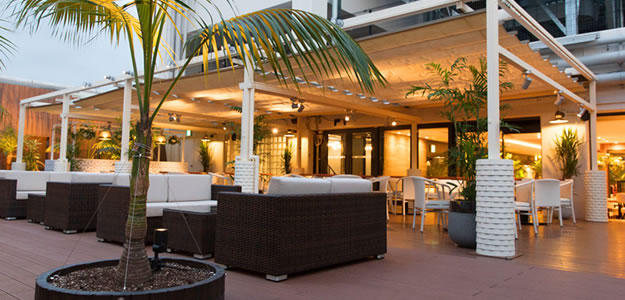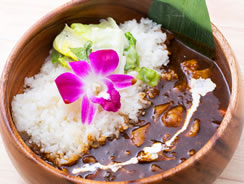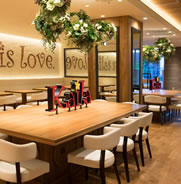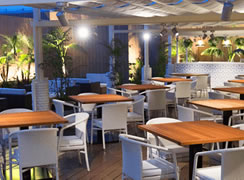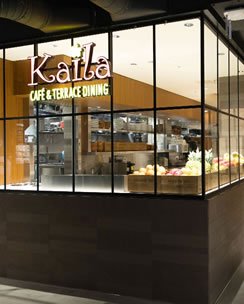 Shop Information
Address
1-21-3 Jinnan, Shibuya-ku,
Tokyo Shibuiya MODI 9F
Access

•3 minutes walk from Shibuya Station

Phone
(Office)+81-50-5531-9452
Shop
Hours
11AM-11PM on weekdays
(last order 10:00 PM);
8AM-11PM Sat., Sun., & Holidays
(last order 10:00 PM)
Regular
holiday
No set days off
(follows building hours).

StoresMaihama Japan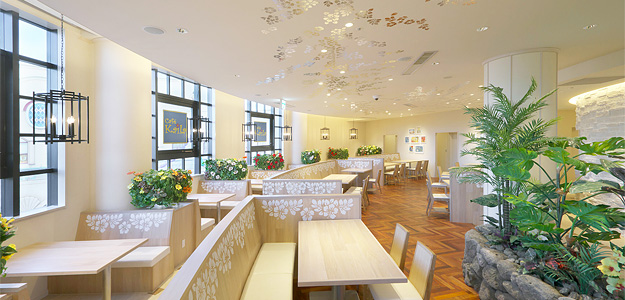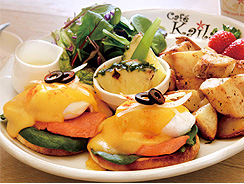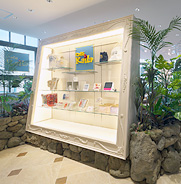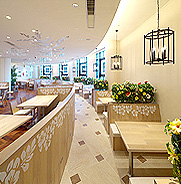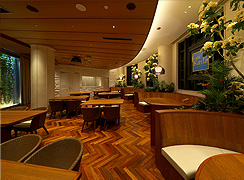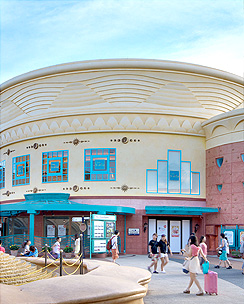 Shop Information
Address
1-4 Maihama Urayasu-City, Chiba
The Trader's Passage, Ikspiari 2F
Access

•Exit the JR Maihama Station ticket gate and walk two minutes ahead to your left.

Phone
(Shop)+81-50-5807-3402
Shop
Hours
11AM-07PM on weekdays
(last order 6:00 PM);
10AM-08PM Sat., Sun., & Holidays
(last order 7:00 PM)
Regular
holiday
Open every day.

Sightseeing Spots Near Cafe Kaila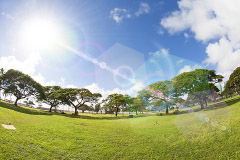 There are a lot of famous sightseeing spots in and around the Cafe Kaila area in Honolulu. Listed on this page are just a few of those spots. Please note that access refers to accessing the locations from Cafe Kaila.
KCC Saturday Farmers' Market
A lot of local farmers, shops, and restaurants setup here and you can always find something different each time you visit. It's easy to get here by bus or trolley. The merchandise here also makes for great souvenirs and a lot of it can be obtained at very reasonable prices, some of which are cheaper than in Waikiki itself.

The event is normally held on Saturday morning, but recently is also being held on Tuesday evenings.
South Shore Paperie
This is a paper store run by a local couple and is located very close to Cafe Kaila. The wife is in charge of design and the husband takes care of printing and PR. There are lots of great letter heads and notebooks that have that natural Hawaiian color to them.

Recently, their products are also being sold in a lot of other stores in Waikiki, but the best experience is done so at the head store.

They are also popular with help in preparing materials for wedding ceremonies in Hawaii.
Information
Hours
9:00-16:00 (Mon-Thu) 10:00-18:00 (Fri,Sat) Closed Sun
Address
1016 Kapahulu Ave. Honolulu, HI 96816 Kilohana Square #190
Access
Take the #13 bus from Kilohana Square on the corner of Kapahulu Ave. and Kihei Pl. to Kapahulu and Campbell. Approx. 20 minutes.
URL
http://southshorepaperie.com/
Sugarcane Shop
After leaving Cafe Kaila, pass under the highway and turn right. You'll pass by a lot of great restaurants before arriving at the top of the hill in Kaimuki.

The theme is shabby and chic. There are lots of great thngs available from apparel, jewelry, interior, and miscellaneous goods.
Information
Hours
10:30-18:0 (Tue-Sun) Closed Mon Please inquire the store for national holidays
Address
1137 11th Avenue, #101 Honolulu, HI 96816
Access
Can be reached by walking, but car is better. Plenty of parking is available.
Kapiolani Regional Park
This extensive park is on the western end of Waikiki, at the foot of the Diamond Head. It's a convenient spot to take a walk or a break after having finished a meal at Cafe Kaila and return to the center of Waikiki.

You can have a wonderful time seeing Diamond Head, palm trees, the beach, and Honolulu Zoo. Other activities include visiting the Waikiki Aquarium and Waikiki War Memorial.
Information
Hours
5:00-24:00
Address
Kalakaua Ave. / Monsarrat Ave. / Paki Ave.
Access
10-15 minute walk from central Waikiki. 2 minute bus ride from Kuhio Ave. (#2 bus)
Royal Hawaiian Resort
The Royal Hawaiian Resort is a pink resort hotel situated in a location that faces Diamond Head. It not only features a restaurant and a bar, but also a spa and it even conducts weddings. A very popular place.
Information
Address
2259 Kalakaua Ave.
Honolulu, HI 96815
Access
10-15 minute walk from central Waikiki. 2 minute bus ride from Kuhio Ave. (#2 bus)
URL
https://www.royal-hawaiian.com/
Great Japanese Food Around Hawaii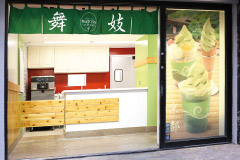 Hawaii has lots of great places to enjoy a good meal. Matcha Stand Maiko, a sister store to Cafe Kaila opened in 2016 and their feature product is their line of matcha soft serve. In this page, we'll discuss some places where you can get great Japanese food in the Hawaii area.
Matcha Stand Maiko
As mentioned earlier, this is a sister store to Cafe Kaila where customers can enjoy great matcha soft serve among other drinks. It's close to the beach so you can enjoy time on the beach with some great matcha drinks. The store has grown in popularity since opening.

All products are made using authentic Japanese grown tea leaves. Best of all, matcha is a very nutritious drink. Definitely check it out.
What's Japanese about it?
Matcha is a regular drink all around Japan. It's enjoyed by people of all ages. Matcha Stand Maiko also provides the matcha pancake, which is a popular item on Cafe Kaila's menu.
Marukame Udon
It's a little ways away from Cafe Kaila, but Marukame Udon is near Matcha Stand Maiko and is a popular noodle chain all around Japan. They offer plenty of varieties of noodles as well as tempura products. They are good at filling orders quickly. Give them a try.
What's Japanese about it?
This chain has hundreds of locations all around Japan and is a big success. It's popular because it's quick, inexpensive, and convenient.
Shirokiya
Most people think Japanese food is expensive, but Shirokiya is quite reasonable with its prices. They even $1 beers and pitchers for $5. It's located in the middle of the Ala Moana Center and a great spot to visit in Hawaii.
What's Japanese about it?
Shirokiya is an izakaya, the Japanese style tavern. They offer a wide range of foods so anyone can enjoy it. The store is easily accessible, very spacious, and very reasonable.
Great Hawaiian Food Near Cafe Kaila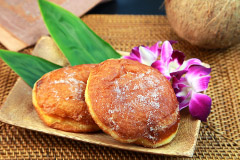 After enjoying some breakfast at Cafe Kaila there are lots of other great cafes and restaurants nearby Cafe Kaila. If you're visiting Hawaii, we have some recommendations you should check out.
Leonard's Hawaii
Originating in Portugal, it's a a very popular store with lots of customers throughout the day. Their speciality is gourmet Malasada, which comes in 3 varieties: Plain, Cinnamon, and Li Hing. They also offer fillings such as chocolate, custard, and more making for lots of variety. In addition to malasadas, they also offer pumpkin pie, cupcakes, muffins, and more. If you're staying in Hawaii for a while, they also offer boxed options that make for great souvenirs.
Info
Address: 933 Kapahulu Ave, Honolulu, Oahu, HI 96816-1434
URL: https://www.leonardshawaii.com/home/
Waiola Shave Ice
Founded in 1940, this is one of hte top shaved ice shops popular in Honolulu. One unique menu item is the Obama Rainbow, which has combines passion fruits, limes, cherries, condensed milk, and adzuki beans topped with mochi. With over 40 different kinds of syrup, you'll have plenty to choose from.

Once you try their shaved ice, you'll never forget it.
Info
Address: 3113 Mokihana St, Honolulu, Oahu, HI 96816-6500
URL: http://www.waiolashaveice.com/
Ono Seafood
Ono Seafood offers a popular Poke Bowl and is popular among the Hawaiian locals. There are two varieties: Ahi Poke, which uses fresh tuna, and Tako Poke, which uses octopus. Soy sauce, miso, spicy, Hawaiian, and wasabi are available for seasoning. The poke bowl also goes great with white or brown rice.
Info
Address: 747 Kapahulu Ave, Honolulu, HI 96816
URL: https://www.facebook.com/pages/Ono-Seafood/121018077909974
Sightseeing Spots Near Cafe Kaila 2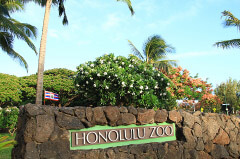 There are a lot of famous sightseeing spots in and around the Cafe Kaila area in Honolulu. Listed on this page are just a few more of those spots.
Honolulu Zoo
Easy to access in Waikiki and enjoyable by people of all ages. It has a spacious garden and plenty of playground equipment and lawn plazas. Many people from locals to tourists come throughout the year.

It's a full-sized zoo with many kinds of animals including the popular lions, zebras, cheetahs, elephants, giraffes as well as different kinds of birds, reptiles, and more!
Waikiki Aquarium
Opened in 1904, this historical aquarium has been operating for over 100 years. There are plenty of popular marine exhibits with all kinds of aquatic organisms from the tropical regions of the Pacific. The aquarium is focused on the research and protection of such organisms.

One very popular exhibit is the Hawaiian Monk Seal. Be sure to visit here.
Information
Hours
9:00-16:30
Address
2777 Kalakaua Ave, Honolulu, HI 96815
Diamond Head State Monument
Diamond Head is a landmark of Hawaii. When westerners landed long ago, it is said that the mountaintop was named Diamond Head because it shines like a diamond.

It's 232 meters tall and is one of the most beautiful places in Hawaii. The view from the top is breathtaking and is one of the must-visit places in Hawaii. A climb to the summit can take around 30 minutes to an hour.
Information
Hours
6:00-18:00
Address
96815 Honolulu
Shopping Around Cafe Kaila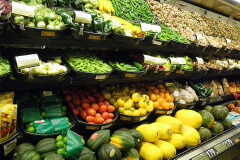 When you're in Hawaii, after dropping by Cafe Kaila for some pancakes, you'll probably want to do some shopping. Check out some of these places nearby.
Foodland Market City
This supermarket came to Hawaii from Pennsylvania in 1948 after World War 2 and has locations in Oahu, Maui, Hawaii and Kauai. There are plenty of great, fresh foods and some stores have bakeries and delis. In addition to that, souvenirs and beach goods are also available. People really like going here while waiting their turn in line at Cafe Kaila.
Information
Hours: 24 hours
Address: 2939 Harding Ave, Honolulu, HI 96816
URL: http://www.foodland.com/stores/foodland-market-city
Simply Wood Studios
Many high quality wood products are available and they make great gifts. The staff is also friendly and helpful. Some products include pens, ornaments, accessories, jewelry, etc. The most popular items are the pens with their elegant curves and beautiful wood grain. They are also fitted with pink or blue acrylic to give them that Hawaii look. While they may seem a little pricey, they do make great souvenirs.
Information
Hours: 9:00 - 17:00 (M-F), 10:00 - 17:00 (Sat), Closed Sun
Address: 932 Kapahulu Ave, Honolulu, HI 96816
URL: https://www.simplywoodstudios.com/
Downing Hawaii
Surfing's always been popular in Hawaii and this is a surf shop that locals love going to. Varoius boards such as the Dart, Duster, Slippah, Minihune, and Longboard are available and can be customized. You can get a board for any situation. Boards with the shop's "D" logo are also popular. These also make great souvenirs.
Information
Address: 3021 Waialae Ave, Honolulu, HI 96816
URL: http://www.downingsurf.com/
The Importance of Breakfast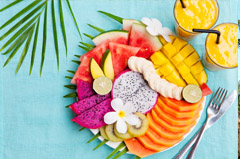 Despite knowing it's generally bad to skip breakfast, people may give excuses for doing so such as: "I want to sleep longer" or "I don't feel hungry". In this page, we will discus some recommendations as well as the importance of breakfast.
Risks of skipping breakfast
Breakfast is an important energy source to help start the day. If skipped, one won't have enough energy throughout the day and over time one might feel dizziness a lack of concentration, and fatigue. One may even develop hypoglycemia over time.

It is said that the brain consumes 2 to 30% of the total glucose intake as energy. Therefore, breakfast is necessary in order keep the brain working.

It's important to develop these eating habits early on. From childhood, it's important to have a good habit of eating.

If one does not eat, problems will arise in terms of learning and emotional development, and it is said that it also affects one's personality. Such eating habits are important all the way into adulthood.
Stop having dinner late
If one eats late at night, it will carry into the next day as the food won't be fully asorbed nor digested thus giving one little to no appetite in the morning. If you have to have something late at night, try supplements or even a simple light food like cereal or crackers that won't linger until the next morning.
Breakfast is good for dieting
Skipping any meal (not only breakfast) will often lead to overeating in the following meal, which will then cause a sharp rise in the blood glucose level. This sudden rise in blood sugar is bad for dieting.

Certain Miss Universe models practice the habit of eating five to six meals a day so as to prevent blood sugar from rising sharply. Maintaining a good blood sugar level is one of the keys to maintaining a good weight.
The solution: Frozen pancakes!
Pancakes can be easily made by mixing powder, eggs, and milk. In addition, they also contain the three major nutrients which are carbohydrates, protein, and fat.

Pancakes can be stored frozen and come in a wide variety of flavors so you'll be able to find your favorite taste.
What do you think? The Hawaiian locals enjoy this simple yet delicious style of breakfast and so can you!
Shopping Around Cafe Kaila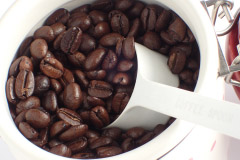 For a trip to Hawaii, there's of course plenty of food and activities to enjoy, but taking something back with you is also a must. This page will introduce some ideas of some good things to get.
Honolulu Cookie Company
Their speciality is the pineapple-shaped shortbread cookie. The secret to the good taste is the ingredients used which include high quality chocolate, flour, butter, and more. There are lots of flavors to choose from including pineapple, Kona coffee, coconut. Definitely give these a try.
Information
Address: Royal Hawaiian Center, B-1F
Phone Number: (808) 931-3330
Business Hours: 9:00-23:00
Days Off: None
Hawaii Coffee Company
Coffee is one of the main products of Hawaii and one of the most famous varieties is Kona coffee. There are only a few times in the year where it's opportune to cultivate it so prices can be a little high, but such great quality coffee will make any coffee lover happy. It also goes great with bread and pancakes among other breakfasts.
Information
Address: 1555 Kalani Street Honolulu, HI 96817
Phone Number: (800) 338-8353
Business Hours: 6:00-17:00
Days Off: Sunday
Burt's Bees
A popular, organic cosmetic brand. Products offered include creams, cleansers, shampoos and more. They make great souvenirs for the ladies. The most popular product, however, is their lip balm which is great for protecting against dry lips. Their products can be found around Hawaii, but we recommend the ABC Store.
Information
ABC Store Ala Moana Center
Address: 1450 Ala Moana Boulevard, Honolulu, HI 96814
Phone Number: (808) 941-3374
Business Hours: 9:30-21:00
Days Off: None
Whole Foods Market
A popular natural and organic supermarket. This is great if you're looking for a more miscellanous souvenir. Some ideas include their body care products or the eco bags. Different prices and designs are available, so there's a lot to choose from to meet your needs.
Information
Address: 4211 Wai'alae Avenue Honolulu, HI 96816
Phone Number: (808) 738-0820
Business Hours: 7:00-22:00
Days Off: None
*Note: The information on this page may be subject to change anytime.
The Importance of Breakfast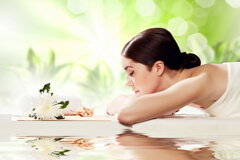 When going on a trip to Hawaii, there are naturally many things one will want to see and experience and Hawaii has lots of great options available. If you live in a mostly urban area, then Hawaii can be a great choice for escaping the hustle and bustle of everyday life. One such way to escape is in a Hawaiian spa. Why not drop by a spa after having a meal at Cafe Kaila?
What is a spa?
Spas can be pictured differently all over the world. For instance, in Japan a lot of people think buildings with hot springs or large baths. However, Hawaii's not like that. The aim of the spas in Hawaii is relaxation, natural healing to help with the shoulders or back, and helping to alleviate illnesses caused by stress, among other things.
Spa Services
●Massage
Treatment, aromatherapy, reflexology, and many other things are associated with massages. In Hawaii, the traditional "Lomi Lomi" is very popular. It means "Push and Press" in Hawaiian and has been continually practiced for a long time.

●Steam Sauna
The sauna is great for rejuvenating one's cells and ridding the body of waste. Steam helps promote blood circulation and moisturizes the skin making for one great experience.

●Hot Stone
Maybe not so well known is hot stone which involves placing several heated stones on the back. It's said the effect of the far infrared rays goes deep to the body's core providing relief to the shoulders, back, and alleviating cold sensations.

●Foot Bath
Foot baths are great for relieving fatigue and cold sensations, but also great for increasing circulation to help rid the body of toxins and up its metabolism. They also help with swelling and fatigue in the legs.

●Wrap Scrub Pack
This process is done using a cream or gel made with the natural salts and seaweed found in Hawaii and provides an exfoliating and moisturizing effect. The cream also has an aroma therapeutic effect allowing one to relax through the whole treatment.
Fun in Hawaii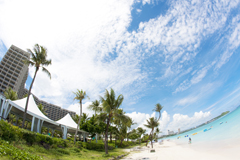 If you're visiting Hawaii, these are just some of the many fun things you can do while you're here.
Taking Photos
Hawaii is definitely one of the most picturesque places you can go to! From beautiful scenery to wonderful places, you photographers out there will have to give Hawaii a visit sometime.
Shopping
There are lots of things that you can only get in Hawaii. Hawaii limited items also make great souvenirs. Be sure to check out all the neat Hawaii exclusives.
The Ocean View
Hawaii's got a great view of the ocean. On Oahu, getting a perfect photo of Diamond Head with Waikiki in the background and enjoy other activities in the water like swimming, surfing, and more! Maybe you'll even get to see a sea turtle.
Great Food
There are plenty of great things to eat in Hawaii such as pancakes, hamburgers, steaks, acai, garlic shrimp, and more. Also, if Japanese food is your thing, there are plenty of places where you can get udon, sushi, and other delicacies.
Trekking
Trekking is another thing to do in Hawaii. It's different from mountain climbing as the goal isn't to reach the mountain summit, but rather to simply enjoy the scenery. The area around Diamond Head makes for a great trekking experience, but there are lots of great places to do it.
Yoga
Hawaii's surrounded by nature, and in it yoga is something you should try. Feel the nature in your whole body as it heals from the stress of everyday life. Some yoga sessions are even offered by the ocean.
Fun Activities to Do In Hawaii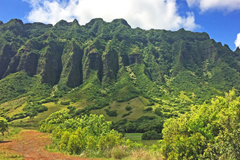 There are countless things to do and enjoy in Hawaii such from sightseeing and shopping to enjoying good pancakes. But there's more than just the basiscs. You can also enjoy the jungle, horseback riding, and more. This page will talk about some things you can do in Hawaii with your friends and family.
Kualoa Ranch
This place was actually one of the locations in the hit film "Jurassic Park". Here, you can enjoy horseback riding as well as the wilderness not to mention the vast ranch area. From time to time you'll also get to enjoy a nice, refreshing Hawaiian breeze.

If you can't ride a horse, don't worry as the people here are very welcoming to newcomers. Children can even try it out.

In addition to riding, there are plenty of other activities to do such as taking a bus tour and a Kaneohe Bay cruise.
Information
Address: 49-560 Kamehameha Hwy
Kaneohe, HI 96744
Diamond Head Trail
Despite being the symbol of Hawaii, Diamond Head is surprisingly not climbed by as as many people as one would thing. The top has an altitude of 232 meters and a 1.3 km hiking course.

You can get a wonderful 360 view of Waikiki from the top.
Information
Address: 4200 Diamond Head Road
Honolulu, HI 96816
Atlantis Submarines
The Hawaiian sea is great to see, but it's even greater to see while out in the water itself. You don't have to go diving, but can rather ride the Atlantis submarines, which are the only tourist submersibles in Hawaii.

From down in the water you can get a view of Hawaii's sea turtles and colorful fish. This is growing more and more in popularity.
Information
Address: 2005 Kalia Road
Honolulu, Oahu, HI 96815
Skydive Hawaii
If you want to enjoy everything Hawaii has to offer all at once, you can do it from the sky. It's easy for anyone to experience sky diving from the veteran instructors.

Some people may be afraid to try this, but if you can overcome your fears then you'll get to experience some of the best minutes of your life ever.

On clear days, you can see not only Oahu, but also Hawaii and Maui as well. Sometimes even whales coming close to the coast.

Leave it to the photographers to take your pictures of this unforgettable experience.
Information
Address: 68-760 Farrington Hwy
Ste 1 Waialua, HI 96791