About Café Kaila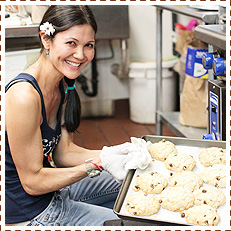 Welcome to Café Kaila!
I would like to share with you some of my favorite things to eat.
This menu was created because I have a passion for cooking and I especially love to eat breakfast. These dishes are a collection of my best recipes that I often make for family and friends.
I am proud of the fact that we serve fresh, wholesome food that is thoughtfully prepared and attractively presented. The secret ingredient in everything is love! I hope you enjoy your meal.
Thank you for visiting! : ) Love, Kaila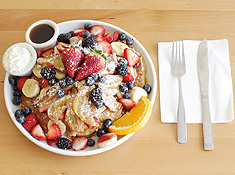 Beginnings
After its nondescript opening in 2007, Café Kaila quickly became one of the most talked about breakfast cafes in the area. Word spread quickly, and within months of opening, there were lines outside the door. Since then, Café Kaila has gone from strength to strength, and in 2012 opened its second store in Tokyo, Japan. We stay true to our original philosophy though, and never forget those who helped us to get where we are now.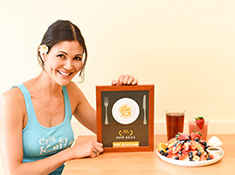 Accolades
In 2011, Café Kaila won the inaugural gold medal in the Best Breakfast category of Honolulu Magazine's Hale 'Aina awards. The awards are the culmination of a ballot among readers of the magazine, who vote for their favorite restaurants in the state of Hawaii. Café Kaila was a finalist in 2012, and won the silver medal in 2013.

From 2014 to 2017, Cafe Kaila won the fourth consecutive gold medal in the Best Breakfast category of Honolulu Magazine's Hale 'Aina awards.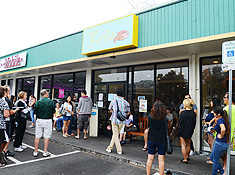 Philosophy
It always has been, and always will be the case that customers come first at Café Kaila. The quality of food (inside, outside, and of course taste), and all-round dining experience are fundamental to everyone at Café Kaila. Even at the busiest times, we do our best to make everyone's experience as pleasant as possible, be they a local or a tourist, waiting to come in or paying the check.
MenuBREAKFAST (served all day)
MenuLUNCH (begins at 11 am)
StoresHonolulu Hawaii

Shop Information
Address
Market City Shopping Center,
2919 Kapiolani Blvd., Honolulu,
Oahu, HI 96826
Access
[Take The Bus from Waikiki area]
Take the No.14 bus from Kapahulu Avenue or Paki Avenue, get off at Kaimuki High School.
Phone
(808) 732-3330
Store
Hours
7AM-6PM on Mon-Fri
7AM-3PM on Sat-Sun
Regular
holidays
No set days off

StoresPhoto Gallery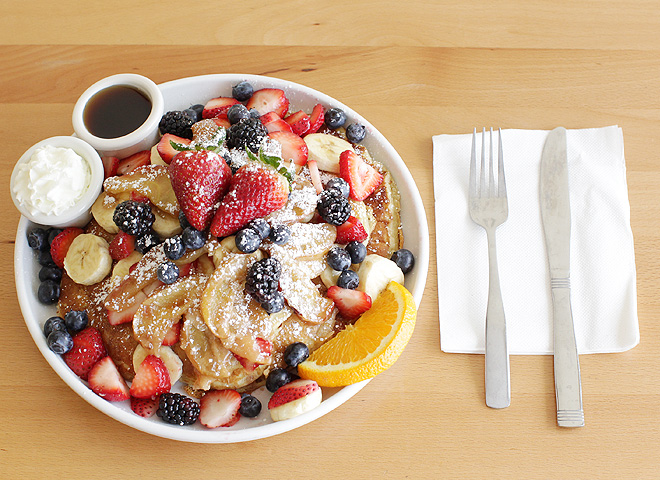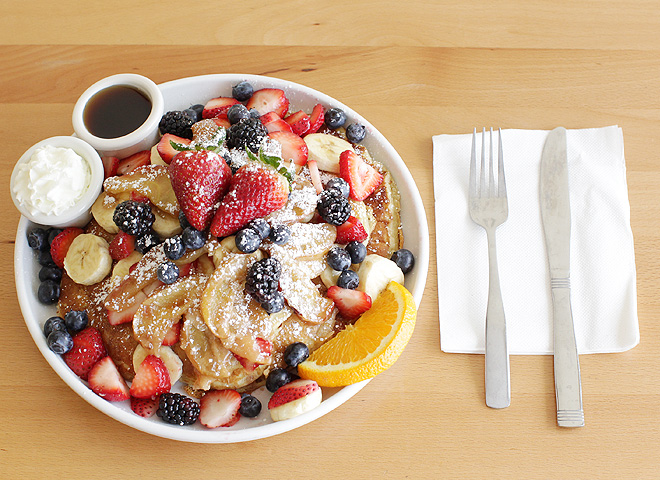 StoresShibuya Japan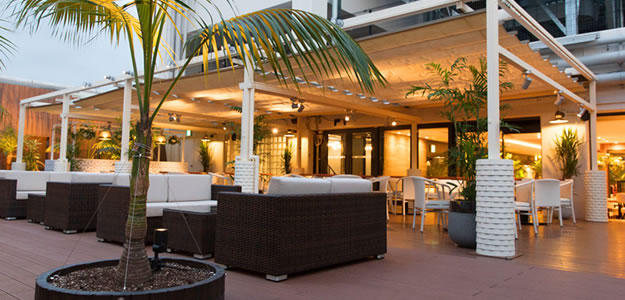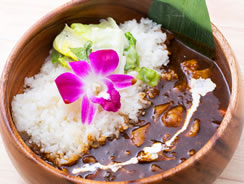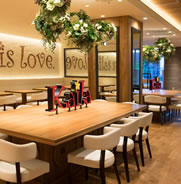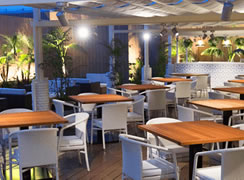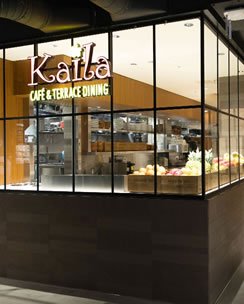 Shop Information
Address
1-21-3 Jinnan, Shibuya-ku,
Tokyo Shibuiya MODI 9F
Access

•3 minutes walk from Shibuya Station

Phone
(Office)+81-50-5531-9452
Shop
Hours
11AM-11PM on weekdays
(last order 10:00 PM);
8AM-11PM Sat., Sun., & Holidays
(last order 10:00 PM)
Regular
holiday
No set days off
(follows building hours).

StoresMaihama Japan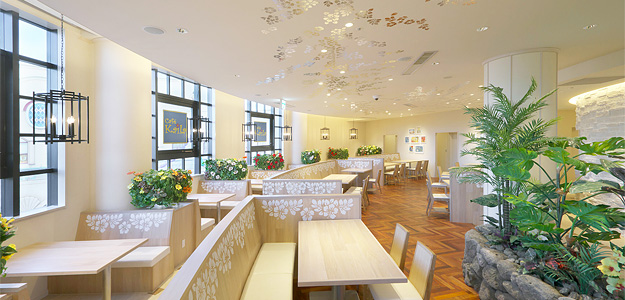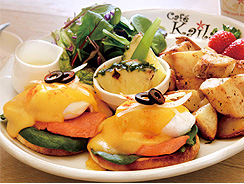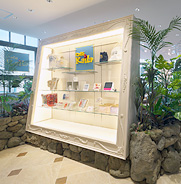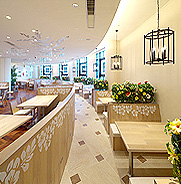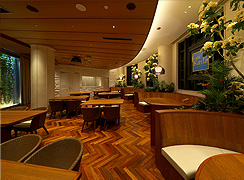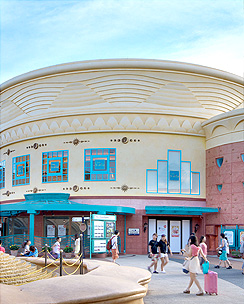 Shop Information
Address
1-4 Maihama Urayasu-City, Chiba
The Trader's Passage, Ikspiari 2F
Access

•Exit the JR Maihama Station ticket gate and walk two minutes ahead to your left.

Phone
(Shop)+81-50-5807-3402
Shop
Hours
9AM-10PM on weekdays
(last order 9:30 PM);
8AM-10PM Sat., Sun., & Holidays
(last order 9:30 PM)
Regular
holiday
Open every day.

Sightseeing Spots Near Cafe Kaila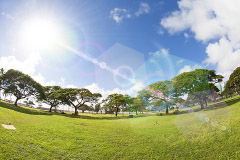 There are a lot of famous sightseeing spots in and around the Cafe Kaila area in Honolulu. Listed on this page are just a few of those spots. Please note that access refers to accessing the locations from Cafe Kaila.
KCC Saturday Farmers' Market
A lot of local farmers, shops, and restaurants setup here and you can always find something different each time you visit. It's easy to get here by bus or trolley. The merchandise here also makes for great souvenirs and a lot of it can be obtained at very reasonable prices, some of which are cheaper than in Waikiki itself.

The event is normally held on Saturday morning, but recently is also being held on Tuesday evenings.
South Shore Paperie
This is a paper store run by a local couple and is located very close to Cafe Kaila. The wife is in charge of design and the husband takes care of printing and PR. There are lots of great letter heads and notebooks that have that natural Hawaiian color to them.

Recently, their products are also being sold in a lot of other stores in Waikiki, but the best experience is done so at the head store.

They are also popular with help in preparing materials for wedding ceremonies in Hawaii.
Information
Hours
9:00-16:00 (Mon-Thu) 10:00-18:00 (Fri,Sat) Closed Sun
Address
1016 Kapahulu Ave. Honolulu, HI 96816 Kilohana Square #190
Access
Take the #13 bus from Kilohana Square on the corner of Kapahulu Ave. and Kihei Pl. to Kapahulu and Campbell. Approx. 20 minutes.
URL
http://southshorepaperie.com/
Sugarcane Shop
After leaving Cafe Kaila, pass under the highway and turn right. You'll pass by a lot of great restaurants before arriving at the top of the hill in Kaimuki.

The theme is shabby and chic. There are lots of great thngs available from apparel, jewelry, interior, and miscellaneous goods.
Information
Hours
10:30-18:0 (Tue-Sun) Closed Mon Please inquire the store for national holidays
Address
1137 11th Avenue, #101 Honolulu, HI 96816
Access
Can be reached by walking, but car is better. Plenty of parking is available.
URL
N/A
Kapiolani Regional Park
This extensive park is on the western end of Waikiki, at the foot of the Diamond Head. It's a convenient spot to take a walk or a break after having finished a meal at Cafe Kaila and return to the center of Waikiki.

You can have a wonderful time seeing Diamond Head, palm trees, the beach, and Honolulu Zoo. Other activities include visiting the Waikiki Aquarium and Waikiki War Memorial.
Great Japanese Food Around Hawaii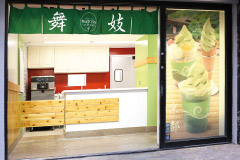 Hawaii has lots of great places to enjoy a good meal. Matcha Stand Maiko, a sister store to Cafe Kaila opened in 2016 and their feature product is their line of matcha soft serve. In this page, we'll discuss some places where you can get great Japanese food in the Hawaii area.
Matcha Stand Maiko
As mentioned earlier, this is a sister store to Cafe Kaila where customers can enjoy great matcha soft serve among other drinks. It's close to the beach so you can enjoy time on the beach with some great matcha drinks. The store has grown in popularity since opening.

All products are made using authentic Japanese grown tea leaves. Best of all, matcha is a very nutritious drink. Definitely check it out.
What's Japanese about it?
Matcha is a regular drink all around Japan. It's enjoyed by people of all ages. Matcha Stand Maiko also provides the matcha pancake, which is a popular item on Cafe Kaila's menu.
Marukame Udon
It's a little ways away from Cafe Kaila, but Marukame Udon is near Matcha Stand Maiko and is a popular noodle chain all around Japan. They offer plenty of varieties of noodles as well as tempura products. They are good at filling orders quickly. Give them a try.
What's Japanese about it?
This chain has hundreds of locations all around Japan and is a big success. It's popular because it's quick, inexpensive, and convenient.
Shirokiya
Most people think Japanese food is expensive, but Shirokiya is quite reasonable with its prices. They even $1 beers and pitchers for $5. It's located in the middle of the Ala Moana Center and a great spot to visit in Hawaii.
What's Japanese about it?
Shirokiya is an izakaya, the Japanese style tavern. They offer a wide range of foods so anyone can enjoy it. The store is easily accessible, very spacious, and very reasonable.
Great Hawaiian Food Near Cafe Kaila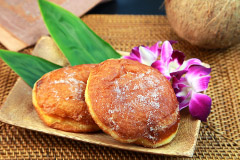 After enjoying some breakfast at Cafe Kaila there are lots of other great cafes and restaurants nearby Cafe Kaila. If you're visiting Hawaii, we have some recommendations you should check out.
Leonard's Hawaii
Originating in Portugal, it's a a very popular store with lots of customers throughout the day. Their speciality is gourmet Malasada, which comes in 3 varieties: Plain, Cinnamon, and Li Hing. They also offer fillings such as chocolate, custard, and more making for lots of variety. In addition to malasadas, they also offer pumpkin pie, cupcakes, muffins, and more. If you're staying in Hawaii for a while, they also offer boxed options that make for great souvenirs.
Info
Address: 933 Kapahulu Ave, Honolulu, Oahu, HI 96816-1434
URL: https://www.leonardshawaii.com/home/
Waiola Shave Ice
Founded in 1940, this is one of hte top shaved ice shops popular in Honolulu. One unique menu item is the Obama Rainbow, which has combines passion fruits, limes, cherries, condensed milk, and adzuki beans topped with mochi. With over 40 different kinds of syrup, you'll have plenty to choose from.

Once you try their shaved ice, you'll never forget it.
Info
Address: 3113 Mokihana St, Honolulu, Oahu, HI 96816-6500
URL: http://www.waiolashaveice.com/
Ono Seafood
Ono Seafood offers a popular Poke Bowl and is popular among the Hawaiian locals. There are two varieties: Ahi Poke, which uses fresh tuna, and Tako Poke, which uses octopus. Soy sauce, miso, spicy, Hawaiian, and wasabi are available for seasoning. The poke bowl also goes great with white or brown rice.
Info
Address: 747 Kapahulu Ave, Honolulu, HI 96816
URL: https://www.facebook.com/pages/Ono-Seafood/121018077909974
Sightseeing Spots Near Cafe Kaila 2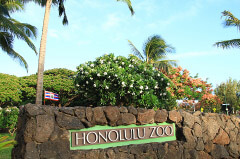 There are a lot of famous sightseeing spots in and around the Cafe Kaila area in Honolulu. Listed on this page are just a few more of those spots.
Honolulu Zoo
Easy to access in Waikiki and enjoyable by people of all ages. It has a spacious garden and plenty of playground equipment and lawn plazas. Many people from locals to tourists come throughout the year.

It's a full-sized zoo with many kinds of animals including the popular lions, zebras, cheetahs, elephants, giraffes as well as different kinds of birds, reptiles, and more!
Waikiki Aquarium
Opened in 1904, this historical aquarium has been operating for over 100 years. There are plenty of popular marine exhibits with all kinds of aquatic organisms from the tropical regions of the Pacific. The aquarium is focused on the research and protection of such organisms.

One very popular exhibit is the Hawaiian Monk Seal. Be sure to visit here.
Information
Hours
9:00-16:30
Address
2777 Kalakaua Ave, Honolulu, HI 96815
Diamond Head State Monument
Diamond Head is a landmark of Hawaii. When westerners landed long ago, it is said that the mountaintop was named Diamond Head because it shines like a diamond.

It's 232 meters tall and is one of the most beautiful places in Hawaii. The view from the top is breathtaking and is one of the must-visit places in Hawaii. A climb to the summit can take around 30 minutes to an hour.
Information
Hours
6:00-18:00
Address
96815 Honolulu
Shopping Around Cafe Kaila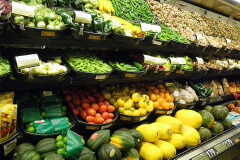 When you're in Hawaii, after dropping by Cafe Kaila for some pancakes, you'll probably want to do some shopping. Check out some of these places nearby.
Foodland Market City
This supermarket came to Hawaii from Pennsylvania in 1948 after World War 2 and has locations in Oahu, Maui, Hawaii and Kauai. There are plenty of great, fresh foods and some stores have bakeries and delis. In addition to that, souvenirs and beach goods are also available. People really like going here while waiting their turn in line at Cafe Kaila.
Information
Hours: 24 hours
Address: 2939 Harding Ave, Honolulu, HI 96816
URL: http://www.foodland.com/stores/foodland-market-city
Simply Wood Studios
Many high quality wood products are available and they make great gifts. The staff is also friendly and helpful. Some products include pens, ornaments, accessories, jewelry, etc. The most popular items are the pens with their elegant curves and beautiful wood grain. They are also fitted with pink or blue acrylic to give them that Hawaii look. While they may seem a little pricey, they do make great souvenirs.
Information
Hours: 9:00 - 17:00 (M-F), 10:00 - 17:00 (Sat), Closed Sun
Address: 932 Kapahulu Ave, Honolulu, HI 96816
URL: https://www.simplywoodstudios.com/
Downing Hawaii
Surfing's always been popular in Hawaii and this is a surf shop that locals love going to. Varoius boards such as the Dart, Duster, Slippah, Minihune, and Longboard are available and can be customized. You can get a board for any situation. Boards with the shop's "D" logo are also popular. These also make great souvenirs.
Information
Address: 3021 Waialae Ave, Honolulu, HI 96816
URL: http://www.downingsurf.com/